Cars Run in the Family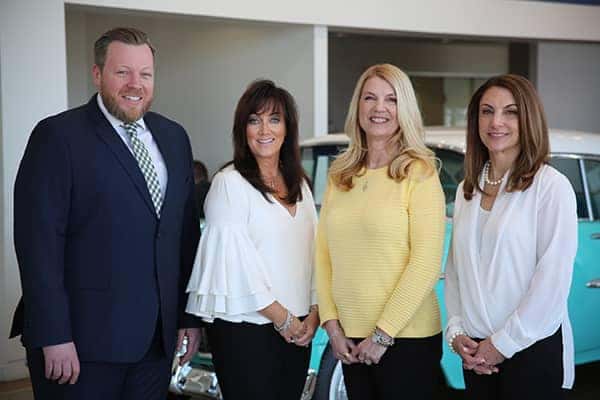 The six Basil brothers are busy people.
But each month, they get together for a "B-6″ meeting, to discuss how their parts of the Basil Automotive Group are performing and to strategize.
The Basils say this collaborative approach has served them well as their auto group has grown. Five of the brothers own dealerships; one brother sold his dealership but still participates in the group.
Six separate dealerships owned at one time by six brothers may be unprecedented, anywhere.
"It's not that unusual to have multiple family members running different dealerships," said David Hyatt, vice president of public affairs for the National Automobile Dealers Association. "For the most part, these are Main Street family businesses. But this is the first time I've ever heard of six brothers running six dealerships."
Talk to the Basil brothers about the car business, and lessons from their father, Joseph Basil Sr., frequently come up. They each credit him with opening the door to their careers.
"I think the biggest asset is we are all independently owned and yet we all work together so well," said Michael Basil, 54, who owns a Toyota dealership in Lockport. "That's really what our strength is in the marketplace. It's very tough to find a family this large that can work together and also play together, and I think that's what the benefit is."
The Basil Automotive Group consists of four new car dealerships and four used-car "resale" centers, from Lockport to Fredonia, employing about 500 people. This year, the group expects to sell about 18,000 new and used vehicles. The Basils have spent more than $10 million on facilities since 2008, and say their sales have remained strong through the economic downturn.
They are siblings in the competitive business of selling cars. So are they teammates or rivals?
"I think team way overshadows competitor," said Chuck Basil, 55, who owns Basil Ford in Cheektowaga. "We are a group made up of individuals, but we're a group first."
James Basil agrees. "We don't care who sells it, as long as it's got a [Basil] sticker on the back," said the 50-year-old owner of Joe Basil Chevrolet in Depew.
The B-6 meetings reflect that mindset. The Basils talk about results, set a path for growth, and discuss potential acquisitions. They take turns serving as chairman, follow a meeting agenda, and keep minutes. The idea for an in-house ad agency emerged from the group sessions.
"The reality is, we help each other get better," said John Basil, who owns two of the Basil resale centers. "And we talk about best practices in here."
The brothers say their dealerships are performing well, but each acknowledges going through difficult stretches at certain points.
"It hasn't been like a magic carpet ride all the way," Chuck Basil said. "There's been tough times."
"Every one of us in the room have struggled, getting our businesses to where we are today," John Basil said.
Praise from others
The Basils operate in a highly competitive local car market. West Herr Automotive Group is the dominant player, with estimated new and used sales this year of 33,000 to 34,000 units. Based on its projection for combined new and used car sales for 2011, Basil Automotive Group would take the No. 2 spot, ahead of Northtown Automotive Cos., which projects selling 16,000 new and used units this year.
Though they are competitors, Craig Schreiber, a co-owner of Northtown, says the Schreibers are also friends with the Basils.
"I have a lot of respect for them," Schreiber said. "They are involved in many things in our community, No. 1, and our industry locally."
Schreiber said the Basils have an unusual arrangement, working together on strategy while also competing with each other to some extent.
Schreiber also calls them good competitors. "I would say they're very innovative with some of their marketing. I would say they're very fair competitors."
With a few big dealer groups based in the region, are there enough sales to go around for everyone?
"You always want it to be larger," Schreiber said.
How it started
Joseph Basil Sr. bought a car dealership with a business partner in 1967. He never imagined owning Holiday Olds in Lancaster would be the start of a tradition for his children. "What was on my mind was that they learned how to work hard and had a good work ethic."
He credits his wife, Shirley, with giving him the confidence to buy his first dealership when it did not seem feasible, and for taking care of the home front as he built his business. John Basil said he and his brothers — each of whom is married — also owe a lot to their wives for supporting them while they put in long hours at their own dealerships.
The Basil brothers tell similar stories about starting out in the car business doing basic jobs as they learned and moved up the ranks.
Joseph Basil Sr. said he and Shirley took supportive steps like investing seed money or co-signing for a loan as their sons became owners. "I always made it clear to the lending institutions and the manufacturers that the boys were their customer, not me," he said.
Simply put, they wanted their children to accept their responsibilities.
"Our father's philosophy was that, the only thing he wants to provide us is an opportunity," Michael Basil said. "It's up to us to earn it. It wasn't like, 'Here's a dealership.' It was, 'Here's an opportunity. How much of your own money are you going to put into it, how much are you going to leverage to do it?' And that's how we all got started, which is why our offices are all on the showroom floors, and we're all involved."
Where Joseph Basil Sr. parked at work impressed Robert Basil, 48, who owns Robert Basil Chevrolet Buick & Erie Cadillac in Fredonia.
"He never parked out front when he came to work, because he always walked through the shops, and walked through and said good morning to everybody and good night to everybody," Robert Basil said. "He used to call it management by walking around, and get out of your office, and go interact with your people. And for the most part, I think all of us do a good job with that."
John Basil recalls his father telling him he could never "coast uphill. If you want to get to the top, you better work your [butt] off, because you're not coasting up the hill."
Paul Stasiak, president of the Niagara Frontier Automobile Dealers Association, said the Basils have achieved success by working as a team, with guidance from their parents.
"They've managed to stay together," Stasiak said. "That's a credit to Mr. and Mrs. Basil."
The Basils say their operations have managed to grow amid an economic slowdown for a few reasons. They cite local loyalty to General Motors and Ford, good employee retention rates that generate repeat customers and referrals, and a healthy mix of new and used vehicle sales.
Joseph Basil Sr., 79, still keeps close tabs his sons' dealerships. If a light in a dealership lot is burned out, or a vehicle in the front row is not parked properly, the brothers will get a call.
Keeping it going
Joe Basil Jr., 58, was once one of the youngest Oldsmobile dealers in the country. He no longer owns a car dealership and works with the consulting group NextPoint. Some of the clients are family-owned businesses.
"The challenge is to get through and be successful through the third generation," he said. "If you pull any stats up, three out of 10 businesses make it through a second generation and only 10 percent of those make it through a third [generation]."
Three third-generation Basils are employed in family dealerships. While the brothers say it would be a plus for family members to carry on the tradition, they say they are not exerting pressure.
"It's not a bad thing if they choose it," Chuck Basil said. "And not even just choose it, they have to have a passion for it, or you're almost destined to fail."
His son, Chuck, 27, works in commercial truck sales at Basil Ford. He grew up around the business and has taken a liking to it, both because of the cars and the strategy involved. "There was always the opportunity to do whatever I wanted, never pressure or anything like that."
Around the B-6 conference table, the Basil brothers talk about the future.
As Basil Toyota in Lockport prepares to move into a new location next door, Michael Basil intends to bring another franchise into the space that will be vacated. Basil Resale Delaware, which sells cars in North Buffalo, will have a new facility in a few months. None of the siblings seems ready to coast uphill.
"My Dad told us when we were kids, 'Alone, you're gonna be great; if you stick together, you'll be unstoppable. '" Michael Basil said. "And it's worked out pretty good."
Source: The Buffalo News