Joe Basil Chevrolet has been involved in many different events throughout the community to help the community! From collecting over 50,000 toys for Toys for Tots since 2004 to sponsoring the Buffalo Motorama each year, we've been there. Learn more about our involvement or even about us as your local car dealership and join in to help your community.
---
---
Veterans and Active Members
Joe Basil Chevrolet has held a public veteran vehicle giveaway event where over $250,000 was raised and 5 vehicles were donated to local area veterans. In addition, a portion of the profits from the vehicles sold from Memorial Day to Labor Day is donated to the VOSC. Here, we also collect items for care packages with Blue Star Mothers to send overseas for local active military members. So far, we've sent over 100 care packages!
Toys for Tots
It's important for local kids to have what they need to grow in a strong community. That's why we started with our partnership with Marines Toys for Tots, collecting toys for disadvantaged children during Christmas. Since starting in 2004, we've collected over 50,000 toys. Toys for Tots began in 1947, when Marine Corps Reserve Major Bill Hendricks unsuccessfully searched for an organization that donated toys to children in need. At the suggestion of his wife, Hendricks started the organization, and due to its success, the Commandant directed all Marine Reserve Sites to implement a TFT campaign.
Local business like Joe Basil Chevrolet are crucial to the organization, providing locate drop-off/collection boxes in their stores, free warehouse space for storing and sorting toys in the months leading up to the holidays, and vehicles to collect the toys that were delivered to the drop-off sites.
Joe Basil Chevrolet partnered with naval officers from the U.S.S. Little Rock to deliver gifts to the children at the Oishei Children's Hospital.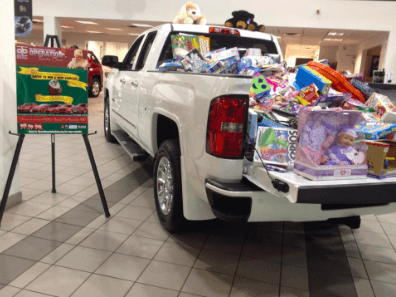 Salvation Army and Depew Lancaster Boys and Girls Club
We're also involved with Salvation Army's Pack a Back Pack where we collect items to fill a backpack with school supplies and give them to the Children in the Salvation Army's programs, day camps, and shelter.
After the Depew Lancaster Boys and Girls Club was destroyed by a fire, we at Joe Basil Chevrolet donated $25,000, raising the money by participating in the Ice Bucket Challenge, and donated $5,000 to area firehouses to prevent future fires.
Helping the Community
Starting with the Matt Urban Hope House, a trauma-informed care-focused homeless shelter for women and children, we want to ensure families have a place to feel safe until they can be re-housed in a more permanent place with a proper support system. We contribute through stocking their Essential Goods pantry with goods that food stamps do not cover. Basil employees helped raise nine months' worth of supplies.
Other community involvement includes planting 1,100 trees between Evangola State Park and Cradle Beach as an Earth Day initiative, donating work trucks to Olmsted Parks, collecting new and gently used clothes for local shelters, and even donating over 8,000 meals for the Food Bank of WNY.
Care for the Community with Joe Basil Chevrolet
Interested in getting more involved in the community? Contact us today to find out how you can help! We look forward to helping the community with you in the future! In the meantime, check out our blog to learn more about local goings-on, our models, and more!