2020 Chevrolet Corvette Models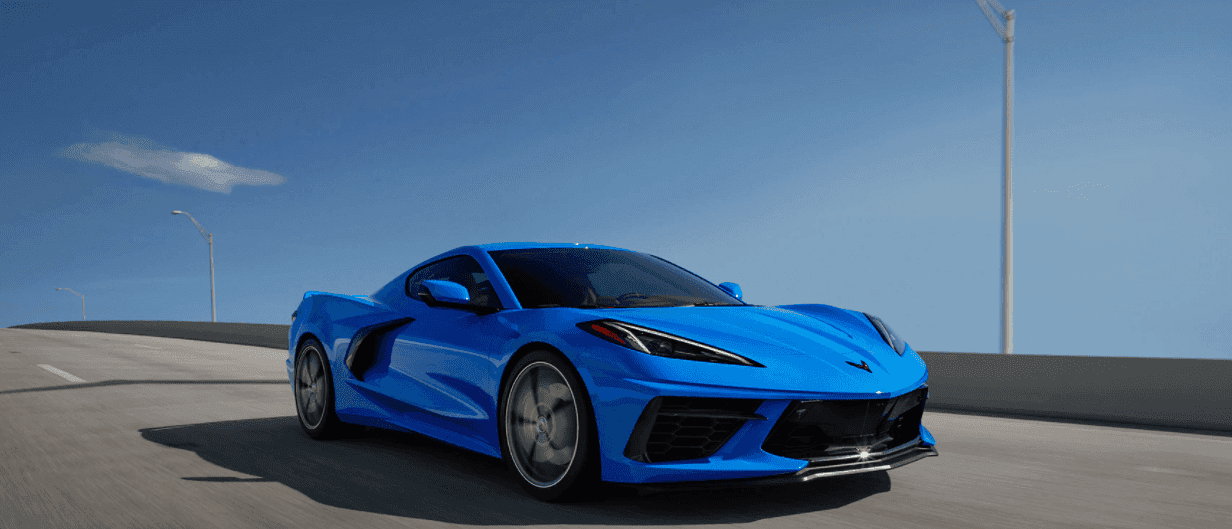 If you're like many of us here at Joe Basil Chevrolet, you like to thoroughly research things before making a purchase. You want to get the most out of your money, and that's understandable. From helping you eke out maximum horsepower for every dollar you spend, to assisting you as you decide on which vehicle trim model best meets your needs without going over budget, we're here to help you! Contact our finance team with questions, or just read on to find out about your 2020 Corvette model choices while learning a bit about prior Corvette generations.
About the Current Corvette Model Lineup
While we love a good Corvette C2 or Corvette C4 as much as any Depew car enthusiast, there's something to be said about the current C8 Corvette generation. Want to explore what it provides? Here's an overview of current Corvette models:
Corvette Stingray – Though it's the entry-level model in the new Corvette lineup, the 2020 Corvette Stingray still features a mighty 6.2L engine that allows it to rocket from 0-60 mph in an impressive 3.7 seconds. That's largely thanks to its impressive output of 460 hp — more than enough to take to Cheektowaga streets confidently.
Corvette Grand Sport – Boasting the well-renowned Corvette LT1 V8 engine, plus a bevy of added aerodynamic features, the new Corvette Grand Sport model provides the ultimate in both performance and handling.
Corvette Z06 – The Chevy Corvette Z06 model was developed alongside the C7.R race car, which is a statement better experienced in person! With 650 hp and an estimated 0-60 mph time under 3 seconds, the Z06 is truly a victor of Chevy engineering! What other features make the Z06 Corvette model stand out? From a dry-sump oil system to Continuously Variable Valve Timing and Direct Injection, there are too many to choose from!
Corvette ZR1 – If only the fastest, best Corvette will do for you, then you've got to check out the 2020 Chevy Corvette ZR1. In a breathtaking 2.85 seconds, the Corvette ZR1 travels from 0-60 mph. On the track, this one-of-a-kind Corvette model can reach a top speed of up to 212 mph! Now that's fast.
Explore the All-New C8 Corvette
Offering up a never-before-attempted mid-engined design for the Corvette, the new Corvette Stingray is a sight to behold and a wonder to drive. This Chevy two-seater sports car has been completely redesigned and re-engineered right down to the nuts and bolts. So although there are plenty of used Corvettes to be had around Cheektowaga and Lancaster, don't expect them to provide everything the new 2020 Corvette does.  Here are just a few new Corvette model highlights our customers love:
Pleasant surprises await inside and out the C8 Corvette, like hidden door handles.
An all-new LT2 V8 engine debuts for the newest 2020 Corvette model.
Standard models give you a glimpse of the engine via an opaque engine bay window.
You can upgrade to the Engine Appearance Package with LED lights to further illuminate the mechanical beating heart of the beast that is the C8 Corvette.
Previous Corvette Generations
There's no ignoring how previous-generation Corvette models and all their improvements over time have led to the current Corvette models. To pay homage to the long lineage of driver enjoyment that the Corvette lineup has produced for Lancaster and West Seneca drivers, here's a list of our favorite previous-generation Corvette models:
Corvette C1: 1953-1962
Corvette C2: 1963-1967
C3 Corvette: 1968-1982
Corvette C4: 1984-1996
C5 Corvette: 1997-2004
C6 Corvette: 2005-2013
C7 Corvette: 2014-2019
Explore the Chevy Corvette Near Depew
Curious to see if a C8 Corvette is right for your driveway, or, conversely, if you feel right behind-the-wheel of a new Corvette? There's only one way to find out! We encourage you to contact us online if you have additional questions. Then, feel free to apply for financing when you'd like to get closer to bringing a Corvette home. Finally, feel free to test-drive a Corvette when the time feels right and reserve your Corvette. We look forward to getting you into your dream Corvette model sometime soon, whether that's a brand new Corvette Stingray or a used C4 Corvette convertible.
More from Joe Basil Chevrolet
More and more Buffalo drivers are making the switch to an eco-friendly vehicle, so it is no surprise that so many are drawn to the Chevy Bolt EV and the Chevy Bolt EUV. Both have so much to offer Cheektowaga shoppers, ranging from fully-electric performance to state-of-the-art technology features. The Bolt is also quite…

Many Buffalo and Cheektowaga drivers are making the switch to an electric vehicle. Whether it's for the environmental benefits or for the peppy performance and innovative tech features, EVs are becoming more and more popular on the roads of Depew. If you have also been thinking about swapping out your current ride for an all-electric…

The Chevy Blazer has been generating a lot of interest around Buffalo for its bold good looks and its robust performance. If the Blazer has caught your eye, too, you may be asking, "How much is a Chevy Blazer?" The Chevy Blazer price starts at $33,400 MSRP, but that cost varies based on which of…